1/2 Pint Glass Tankard in your own handwriting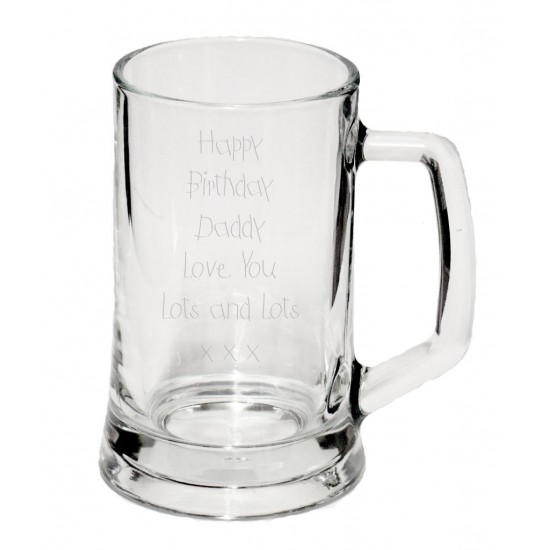 1/2 Pint Glass Tankard in your own handwriting
1/2 Pint Glass Tankard In Your Own Handwriting
Are you looking for that special personalised gift for someone? These glass tankards can be personally engraved with anything of your choice so are perfect. What's even better is that we can also engrave these tankards with a message in your own handwriting!

Our half pint glass tankards are great for all occasions from birthdays to anniversaries, fathers day and many more. For example one of our popular ideas is for fathers day. The children can write a message in their own handwriting and have it engraved onto the glass tankard. It is a great way for them to be involved when it comes to choosing the perfect gift. It beats the same repetitive gifts like socks or smellies!
Also great as a wedding gift for the ushers, best man or father of the bride. A thank you message can be written in your own handwriting and engraved onto their glass. Each time they use the glass tankard it will take them back to your special day and be a gift that will be treasured for a long time. It will be a very unique gift and one to stand out from the crowd.

Engraving
Snobs Gifts have a great team of engraving experts who ensure each product is engraved to a very high standard. Each glass is engraved using a sand blasting technique. This ensures the engraving is deep into the glass meaning it will not fade over time. The engraving that you chose to have can be anything from just a name or a short message. If you would like to have your own handwriting engraved all you need to do is write your message in a bold felt tip pen on a sheet of A4 paper. Then scan your message or take a photo of it and upload it to your order.
Product Features
1/2 Pint Glass Tankard
Can be engraved with any name/message of your choice
A message in own handwriting can be engraved
Dispatched within 1-3 working days