Personalised Wine Box Set, Engraved to your requirements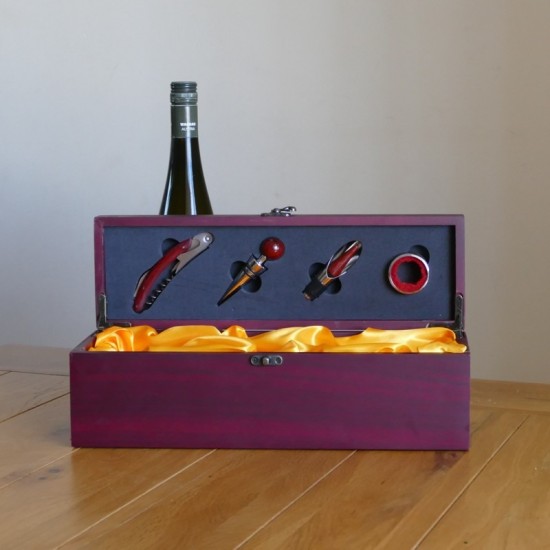 Personalised Wine Box Set, Engraved to your requirements
Personalised Wine Box
Present the recipient with this beautifully presented Personalised wine box. Wonderfully created and holds the standard 750ml bottle of wine.
Celebrate
Celebrate the achievements with work buddies with the additional benefit of engraving on the lid. The personalisation is engraved deep into the wood using the most advanced equipment.A gift that will not just be left tucked away but one that serves its purpose and even more will look good in any interior decor.
Personalisation
With over 30 years of engraving experience, we can create the perfect engraving of your choice. It can be just the recipient's name, company logo or just a message engraved.The type of engraving our company apply to this Personalised wine box is much superior then you can find elsewhere. Avoiding the usual screenprinting or engraving onto a plate. Our method is to engrave directly into the woodIn addition to engraving a simple message, we will try and accommodate and engrave any logo, some with delicate details may be a bit tricky so we ask you to email the image to
info@snobsgifts.co.uk
Utensils
This personalised wine box comes with all the tools needed; i.e. corkscrew and knife, wine ring, wine funnel, bottle stopper and thermometer.To make this personalised wine box perfect for any occasion we offer a free
engraving
 service. Remember you can have any name, dates or even a message engraved directly onto the top of the wooden wine box lid.
Summarise
To summarise, this personalised wine box is perfect for any occasion. Engraved to perfection.Not only a gift but also very practical for the wine connoisseur. As a matter of fact, this is one of the most popular items from Snobs Gifts,On the whole, it's perfect, probably, even more, better with a bottle of their favourite wine.Last but not least a Bamboo personalised wine box may just make purchasing a little harder to decide. Take a look
here 
 if you would like an alternative.