Photo Engraved Slate Heart | Photo Slates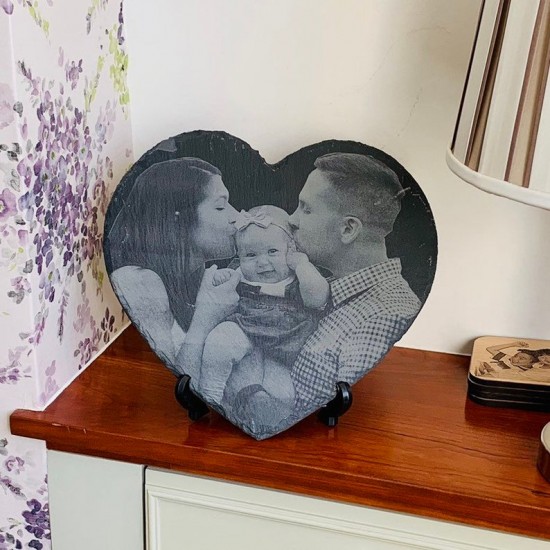 Photo Engraved Slate Heart | Photo Slates
Photo Engraved Hanging Slate Heart
Capture that special moment with a photo engraved hanging slate heart. We're able to engrave any one of your favourite photos onto our photo slate hearts - all for just £25. We capture every intricate detail when engraving your photo slate - certainly an eye-catching gift at the least. We only use 100% natural slate meaning each slate heart will be unique in its own way. Every slate we use will have a slightly different cut, different patterns and even a slightly different surface. Some slates will be rougher, whilst others will be slightly smoother with less natural grooves. All of these features add to the natural beauty of the slate. Whether it's for indoors or out in the Garden.

We engrave our natural slates so you don't have to worry them washing away in the rain! They require no treatment to go outside and should be left in their natural state.
Using the most advanced engraving equipment, together with over 30 years of engraving experience we can guarantee that you will be amazed with your engraved slate heart.
Whether it's a birthday gift, anniversary gift, wedding gift or even a housewarming gift. Your slate heart is almost certain to get them right in the feels.
Not sure you can see them hanging this on a wall? You may rather our
photo engraved slate coasters
, they may be a perfect choice...


Product Features:
Material: Slate
Size: Approx 11" x 11"
Includes Rope / Ribbon
Lead Time: We aim to dispatch within 1-2 working. This can depend on photo quality. Photo's which require more editing may take longer.


Photo Engraved Hanging Slate Heart - Choosing Your Photo
Firstly, aim to choose an image of a high resolution (the image isn't tiny). Your photo should be bright and visibly clear. Avoid photo's which contain blurs and/or shadows across key areas of your photo. To conclude, if you have any concerns or questions. Please send us an email or visit our
Facebook Page
where you can also privately message.