Baby Name Pebble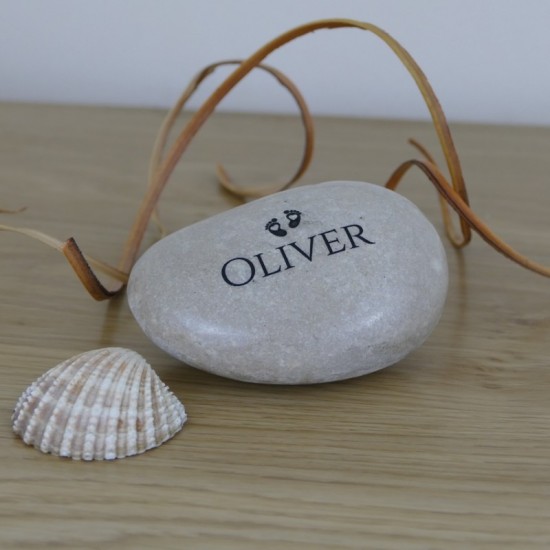 Baby Name Pebble
Baby Name Pebble
A personalised Baby name pebble, engraved with your babies name. A unique baby name gift hopefully cherished for a lifetime, furthermore it will stand out from the crowd from other gifts.
Baby name pebble personalised




In addition, to your personalised name engraved on the front of your pebble, you can also have any name/date engraved onto the back for a small additional cost. Each pebble designed with a pair of babies feet, an option available to have feet removed if requested. Please advise of this at the time of placing your order. Additionally, creating an even more bespoke pebble could be an option, for example, replacing the childs feet with a heart etc In the first place, each baby name pebble, professionally engraved deep into each pebble, creating an indentation then hand painted. A drying process to follow before finally applying a UV protection spray and final lacquer. Attention to detail, one of our strengths.
Natural pebble
Each pebble will be unique to you - in other words, one of the kind! Due to being a 100% natural pebble, each stone will vary in size, shape and even slight shades of colour. Some pebbles will even have some unique and natural blemishes - but we prefer to call them beauty spots. The beauty of this pebble is how unique it is. A natural pebble transformed into a quality keepsake for a lifetime. There are many reasons to purchase a personalised baby pebble. Welcome to this world, Christening day, first birthday or pre-birth, not specifically just for one occasion. Ultimately, a gift not to be found on the high street.
Product Features:
Material: 100% natural cream pebbles
Size: Average pebble size 50mm - 70mm (some pebbles may be slightly smaller/larger)
Free Engraving
Lead Time: Can vary depending on the number of pebbles ordered. Please allow 1-2 weeks- if needed sooner please contact us beforehand to ensure we can fulfil your requirements. Contact: 01892 838900 Mon-Fri or info@snobsgifts.co.uk