Photo Engraved Slate Coasters, Heart Photo Slate Coasters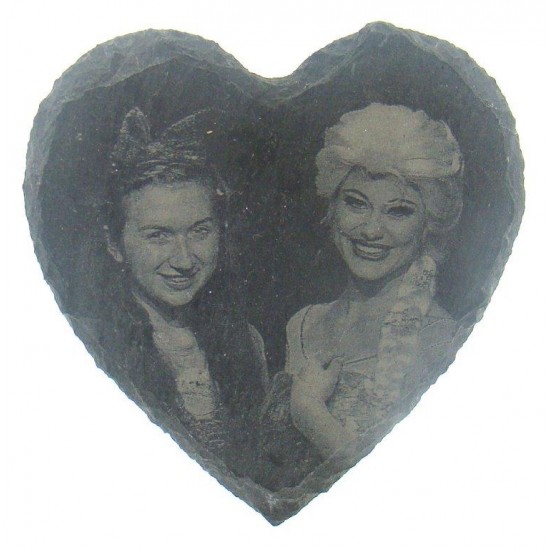 Photo Engraved Slate Coasters, Heart Photo Slate Coasters
Personalise your photo engraved slate coasters by having your own photo etched onto the surface of the slate. These heart shaped coasters make beautifully engraved photo gifts for the home. Whether it's family photo's or photo's from your wedding day - choosing the perfect photo is down to you!Did you know that you can have a different photo on each coaster for FREE? That's right! We don't charge any extra, regardless if you you the same photo or four different! Please read below how to upload more than one image to your photo engraved slate coasters.We engrave your photos onto these heart-shaped slate coasters meaning that the pictures are permanent. They can't be washed away by a drink being spilt, neither will they wash away when they're being cleaned.This set includes 4 coasters - with the option to have a different photo on each!
Product Features:
Material: Slate
Size: 10cm x 10cm (approx)
Lead time: Dispatched within 1-2 working days.
Photo Engraved Slate Coasters - Choosing the perfect photo
Firstly, when choosing a photo for us to engrave, aim to choose a photo which is bright and visibly clear. The image shouldn't have a blur or any dark shadows which cover key areas of the photo (blurred backgrounds are okay).Due to the heart shape of these slate coasters, we suggest there to be a maximum of 2/3 people per photo. Although we do stress that one person per photo would be likely to see the best results and best fit for the shape of the coaster. If you have a larger photo, or one which you don't think will fit our
square coasters
may be better for you.To conclude, if you would like to get in touch regarding your photo. Please send us an email, or alternatively, you can privately message us via our
Facebook page
.