Small Photo Engraved Slate Heart | Hanging Slate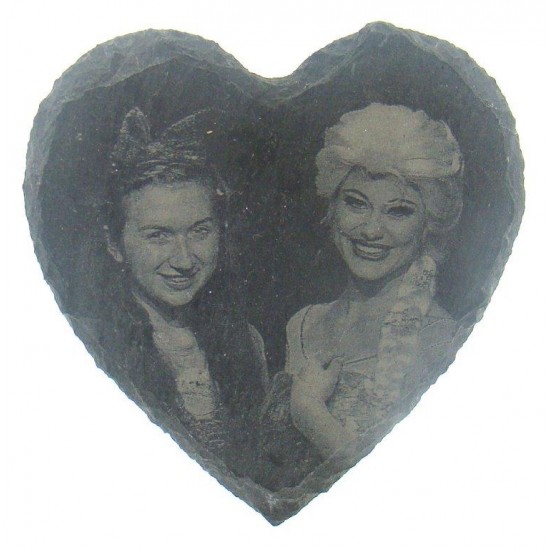 Small Photo Engraved Slate Heart | Hanging Slate
Decorate your home or even your garden with your own small photo engraved slate heart. That's right these photo slates can be left outside too! We engrave your photo onto the surface of your hanging slate meaning that it will never wash off or peel away - it's etched into the stone!These hanging slate hearts are natural slate and therefore, each and every slate is slightly different. Not one slate will be the same! The edge of each slate will have a different cut, some will be smoother whilst others will be more jagged and rough. The size of the slate may vary slightly and it's unusual to find a slate with the 'perfect' cut - it's all part of the natural beauty of working with slate.Think this small photo engraved slate heart may be too small? You may rather our larger
photo engraved hanging slate heart
.
Hanging Slate - Product Features:
Material : Natural Slate
Size (approx.): 110mm x 110mm
Free engraving
Dispatch time: We aim for 1-2 full working days. (Poor image quality may result in a longer processing time).
Rope included.
Small photo engraved slate heart - Choosing your perfect photo
Firstly, when choosing a photo for us to engrave, ensure your photo is bright and visibly clear. Therefore, your photo should have no dark shadows across key areas of the photo such as peoples faces. The photo should also be clear meaning that there is not a blur across people faces, if there is a blur in the background then this image will be more than okay to work from.We edit each photo accordingly to enhance and optimise engraving results. We remove backgrounds from the majority of photos unless we feel it will otherwise improve engraving results. Also, we automatically remove photos with undesirable backgrounds - this includes messy or overcrowded scenes.To conclude, if you would like to get in touch regarding your photo, please send us an email. Alternatively, you can send us a private message via our
Facebook Page
.