BBQ Multitool - Personalised BBQ Untensils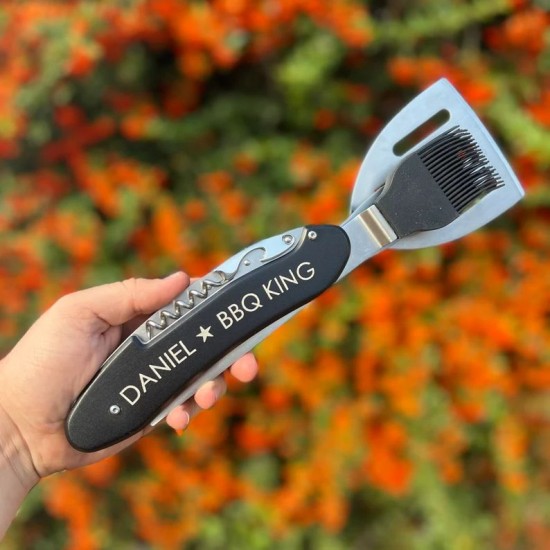 Personalised-BBQ-Multitool-Gift-set
BBQ Multitool - Personalised BBQ Untensils
Personalised BBQ Tools! This personalised BBQ utensil set is the perfect gift for those BBQ and Grill lovers - we all know someone who takes great pride in the Barbecuing skills. This personalised BBQ mutlitool comes complete with a perfect size Stainless steel spatula and stainless steel fork. Plus it also includes a rubber glazing tool and even a stainless steel cork screw and bottle opener.

Unlike most personalised BBQ utensil sets where everything is small and it's more of a gimmick - we've gone BIG with this set! The set includes a full size spatula that can either be flipped out and used or can also slide off from the personalised multitool section. The glazing tool and BBQ fork are also full size and again, made from stainless steel to ensure strength and robustness for the ultimate BBQ experience.

No BBQ would be would be complete without a little bit of a 'cheers' this is what makes the cork screw and bottle opener on this personalised BBQ utensil set so essential!

When closed and compact the length of this bbq multitool set measures 30cm x 9cm - when extented the tool can measure up to 52cm - a 'PROPER' barbecue set!

Being made from stainless steel gives this engraved bbq tool set a real heavy and luxury feel.

Don't forget - we personalise it for FREE too!

KEY PRODUCT FEATURES:

Material: Stainless Steel
Size: (closed size) - 30cm x 9cm - up to 52cm when extended.
FREE Engraving
Quick 1-2 day dispatch
FAST 1-day shipping available.