Personalised Pint Glass Tankard Engraved In Your Own Handwriting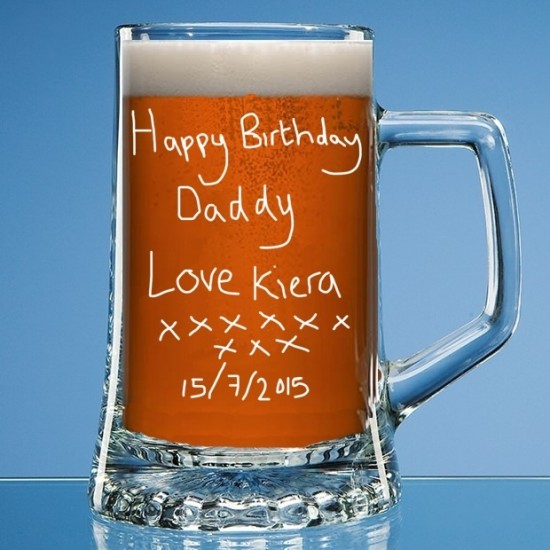 Personalised Pint Glass Tankard Engraved In Your Own Handwriting
Personalised pint glass tankard engraved in your own handwriting
A personalised pint glass tankard engraved in your own handwriting is the perfect gift if you're looking for something that's extra personal.
One of a kind
Not just any old pre printed glass mass produced in their thousands, this personalised glass is so unique. We all at some point have seen personalised pint tankards already personalised with generic messages but never seen one engraved with your own handwriting.
Ideas
A heartfelt personal message from the Bride to the Groom on their wedding day or even from a young child to their parents or grandparents. In fact, why not bring the artist out in you and draw your own picture. This is great for the little ones that are not quite at the writing age.
Technique
This is the clever part, once you have uploaded your handwriting our design team will edit your image to a format suitable for engraving.  Sandblasting technique being the preferred method in order to get the desired depth on the engraving, we sandblast the glass so a visible cut can be seen on the surface.A glass tankard engraved in your own handwriting is a sentimental gift which will be cherished for a lifetime.How to have a glass engraved in your own handwriting.1)  Grab yourself a thick tipped pin (similar to the thickness shown in the images) and a sheet of white A4 paper.2) Write your message as big as you can on the piece of A4.3) Then, upload your own handwriting using the options on the right hand side. The easiest way to do this would be to take a still photo of your drawing using a good quality camera phone or scan it using a good quality scanner.4) Leave the rest to us!